We are excited to introduce the Ops Board Calendar View
You asked, and we listened. We are thrilled to introduce our latest feature – the Ops Board Calendar View. Your feedback and suggestions have been at the forefront of our development, and we're excited to bring you this powerful addition to our software, designed to make your operations management even more efficient and customized to your unique workflow. Easily flick between the timeline view or the calendar view, whatever suits you. Discover how we've tailored the Calendar View to meet your needs and enhance your experience.
Calendar View vs Timeline View
Customizable Views and Color Coding
The Calendar View introduces new functionalities, including color coding for easy identification. We've maintained the color-coding system from the Ops Board timeline view and made it even more user-friendly. Colors represent the state of each task, such as Red for AOG and Yellow for Deferred Defect. You can also use custom colors for maintenance types.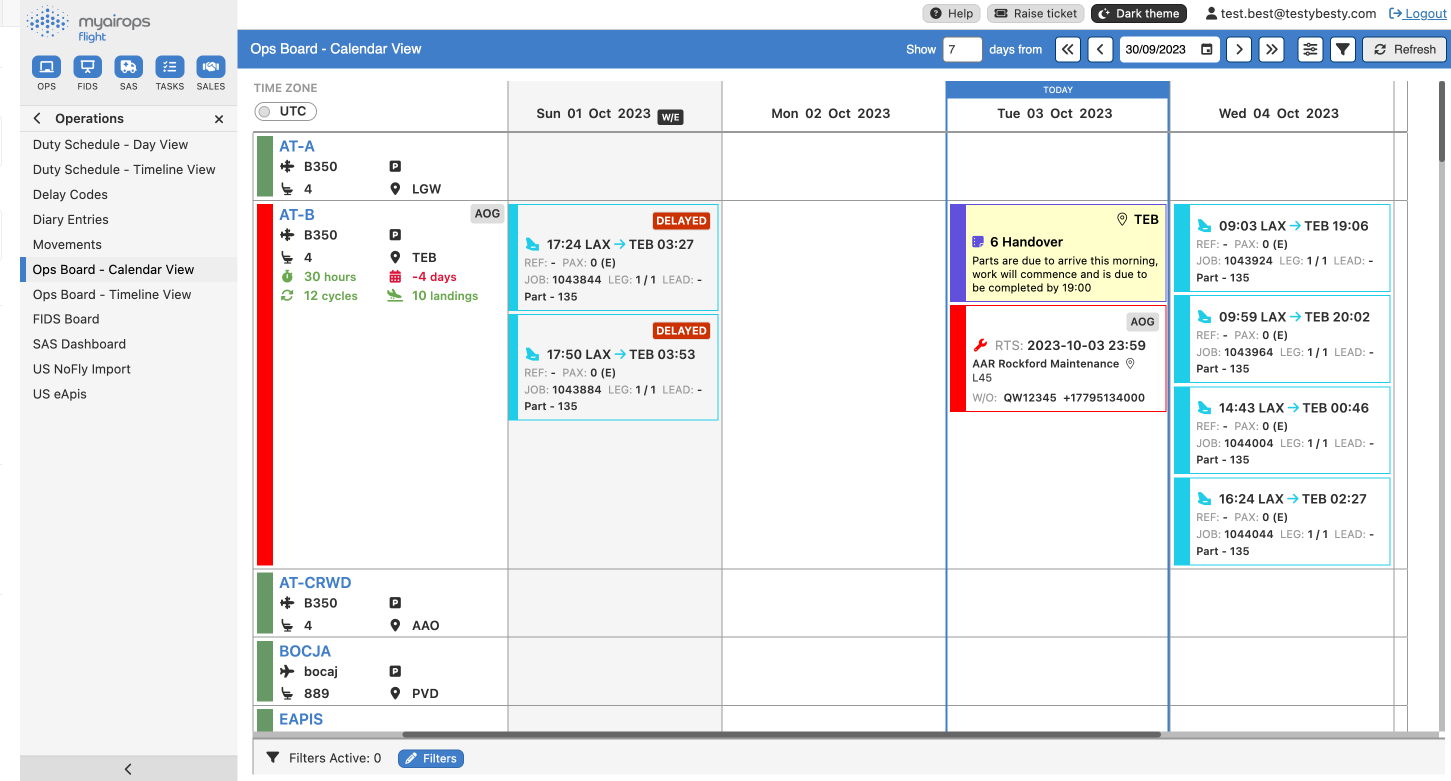 Effortless Configuration
Configuring your preferred view is simple. Access the settings page through a dedicated button, allowing you to customize the display of diary, movement, and maintenance blocks. You can choose between stacking or scrolling blocks for ease of management and viewing.
Stay Informed with Critical Due Countdown
One exciting addition is the critical dues countdown information displayed on the aircraft block. This feature helps you stay on top of essential maintenance tasks, offering a quick overview of upcoming due dates.
Flexible Display Options
The Calendar View offers a variety of display options to cater to your specific needs. Choose from regular, expanded, or condensed views, each designed to provide a distinct presentation of your data.
Seamless Tablet Experience
The Calendar View is optimized for tablet devices. You can enjoy the same functionality as on a desktop or laptop, with the page scaling smoothly for tablet viewing. Context menus remain easily accessible for efficient interaction with blocks.
Slide-in Panel for Aircraft Information
Now, accessing comprehensive aircraft information is a breeze. Just click on an aircraft block and tap the information label to the right. Watch as a dynamic panel slides out, revealing a treasure trove of data, including aircraft utilization insights, maintenance notes, and an enticing image of your chosen aircraft.
But that's not all – you can also track critical dues, deferred defects, and effortlessly explore the aircraft's home base and current location. Clicking on these links leads you directly to the aircraft screen.
Speaking of images, our system picks a single image from your aircraft's collection, making your aircraft look its best. Even better, if you have multiple images, our logic ensures the perfect one for the 'information' section. And remember, we'll search through all sections to find that captivating image if it hasn't been uploaded in a specific one.
Future Enhancements
This is just the beginning for the Ops Board Calendar View. We are committed to enhancing it further with additional features. Stay tuned for ways to streamline and optimize your operations.
Conclusion:
At myairops, our mission is to make your workflow more efficient and your operations more effective. We invite you to explore the Ops Board Calendar View and look forward to delivering even more improvements in the future.
We will be attending NBAA BACE 2023 next week in Las Vegas where you will be able to get your hands on the calendar view and see what it is like in a real environment. If you'd like to schedule some time to meet with the team and discuss the innovative new features we are bringing to myairops, reach out here and book directly into their diaries!